Main Content
The Darwins' Leap of Faith
Charles Darwin published The Origin of Species, his revolutionary tract on evolution and the fundamental ideas involved, in 1859. Nearly 150 years later, the theory of evolution continues to create...More
Charles Darwin published The Origin of Species, his revolutionary tract on evolution and the fundamental ideas involved, in 1859. Nearly 150 years later, the theory of evolution continues to create...More
Available formats
-
Kindle Book
OverDrive Read
Adobe EPUB eBook
Description
-
Charles Darwin published The Origin of Species, his revolutionary tract on evolution and the fundamental ideas involved, in 1859. Nearly 150 years later, the theory of evolution continues to create tension between the scientific and religious communities. Challenges about teaching the theory of evolution in schools occur annually all over the country. This same debate raged within Darwin himself, and played an important part in his marriage: his wife, Emma, was quite religious, and her faith gave Charles a lot to think about as he worked on a theory that continues to spark intense debates.

Deborah Heiligman's new biography of Charles Darwin is a thought-provoking account of the man behind evolutionary theory: how his personal life affected his work and vice versa. The end result is an engaging exploration of history, science, and religion for young readers.

Charles and Emma is a 2009 National Book Award Finalist for Young People's Literature.
Excerpts
-
Copyright © 2009 by Deborah Heiligman.
Published in 2009 by Henry Holt and Company.
All rights reserved. This work is protected under copyright laws and reproduction is strictly...

Chapter 1

Better Than a Dog

Why, the shape of his head is quite altered.

—DR. ROBERT DARWIN, IN 1836,

AFTER CHARLES'S FIVE-YEAR VOYAGE


In the summer of 1838, in his rented rooms on Great Marlborough Street, London, Charles Darwin drew a line down the middle of a piece of scrap paper. He had been back in England for almost two years, after a monumental voyage around the world. He was in his late twenties. It was time to decide. Across the top of the left-hand side, he wrote Marry. On the right he wrote Not Marry. And in the middle: This is the Question. It was easy for Charles to think of things to write under Not Marry.

"Freedom to go where one liked," he began. Charles loved to travel. His voyage had lasted almost five years; he had been the naturalist on the HMS Beagle, a British surveying ship. He was horribly seasick while on board, but he spent as much time as he could on land, exploring on horseback and onfoot, and collecting thousands of specimens, from corals in the Cocos-Keeling Islands of the Indian Ocean to beetles in Australia to a fox in Chiloé Island, Chile. He now lived in London with his servant from the Beagle, Syms Covington, "Fiddler and Boy to the Poop Cabin." Charles had taught Syms to shoot and skin birds and to help him list and catalogue the specimens. Now Charles and Syms were surrounded by neatly stacked wooden crates, casks, and barrels filled with many of their treasures from Patagonia, Brazil, Chile, and Tierra del Fuego: fossil bones, skins, shells, fish preserved in spirits of wine, mammalia in spirits of wine, insects, reptiles and birds in spirits of wine, plants, rocks, carcasses of dead animals, and beetles. What if Charles wanted to go on another adventure and collect more specimens? How could he do that if he got married?

Next, under Not Marry he wrote: "—choice of Society & little of it.—Conversation of clever men at clubs—" On Great Marlborough Street, Charles lived just a few doors away from his older brother, Erasmus, and he was

spending much of his time with Eras and his circle of intellectual friends, which included the historian and writer Thomas Carlyle and his wife, Jane; the writer Harriet Martineau; and the Darwins' first cousin, Hensleigh Wedgwood. They discussed the huge changes in England brought on by industrialization. When Charles had left for his voyage, there were a few trains; now the railroad zigzagged all over the country, reaching places only horse-drawn carriages had gone before. The growing number of mills and factories changed the landscape as well; towns and cities were expanding, as was the division between rich and poor. The rich benefited from the new industry and from Great Britain's burgeoning empire.

The poor suffered in the squalor that Charles Dickens was capturing so well in his serialized novels. Erasmus and his circle debated the Poor Laws, which were shunting the destitute into workhouses; they discussed the need for social

reform.

There were divisions in religion in nineteenth-century England, too. Religious zealots and religious dissenters were making noise while members of the Church of England and Unitarians like the Darwins also quietly questioned their

faith. Freethinking liberals, Eras and his circle were respected members of the British upper classes, and Charles found it easy—and stimulating—to be with them. Because they were open-minded and liberal, Charles knew he could broach with them some of the radical scientific thoughts he was beginning to have. This was what mattered to him. Not...
About the Author
-
Deborah Heiligman has written more than twenty books for children. She graduated from Brown University, and started her writing career working for Scholastic News Explorer, the classroom magazine, but left when she wanted to be home with her children, and then she started writing her books. She is married to Jonathan Weiner, who won a Pulitzer Prize in 1994 for The Beak of the Finch.
Digital Rights Information
+
Copyright Protection (DRM) required by the Publisher may be applied to this title to limit or prohibit printing or copying. File sharing or redistribution is prohibited. Your rights to access this material expire at the end of the lending period. Please see

Important Notice about Copyrighted Materials

for terms applicable to this content.
You already have this title checked out.
×
Recommendation Limit Reached.
You have reached the maximum number of titles you are permitted to recommend at this time.
×
To recommend Charles and Emma, complete the following information:
We respect your privacy. Any and all information collected at this site will be kept strictly confidential and will not be sold, reused, rented, loaned, or otherwise disclosed.
×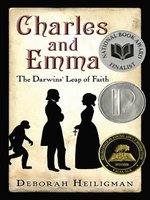 Charles and Emma
The Darwins' Leap of Faith
Deborah Heiligman
×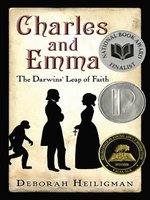 Charles and Emma
The Darwins' Leap of Faith
Deborah Heiligman
Choose a retail partner below to buy this title for yourself.
A portion of this purchase goes to support your library.
Clicking on the 'Buy It Now' link will cause you to leave the library download platform website. The content of the retail website is not controlled by the library. Please be aware that the website does not have the same privacy policy as the library or its service providers.
×